MONT AGOU – CHOCOLAT DU TOGO cocoa beans grow in the shade of the wooded mountain slopes around the town of Kpalimé. The first cocoa plants were introduced to Togo in 1900, and by 1903 the first ton of cocoa was delivered.In those days produce had to be manoeuvred on small boats through the treacherous currents of the Atlantic to the ships lying at anchor along the coast.By 1904 a 354 metre long landing stage had been built, remains of which still bear witness to the beginnings of cocoa export in Togo. By 1912 cocoa export had gone up to 283 tons a year.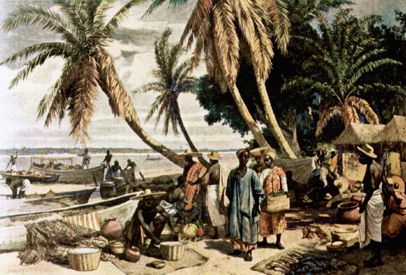 In recent times, cocoa farmers in Togo did not compete on international markets. The vast, intensively farmed plantations in neighbouring Ghana, Ivory Coast and Kamerun, and the regulation of agriculture and an export monopoly for coffee and cocoa beans in Togo until 1996 made it seem unattractive. Only a small group of farmers continued to cultivate cocoa.Nowadays, the extensively managed cocoa cultivation on wooded mountain slopes does not produce great volumes but does deliver exquisite quality produce, and in the case of our partners, farmed without the use of fertilisers or pesticides.Our particular growing area west of Mont Agou, also called a "terroir", has soil conditioned by the rich humus created from the leafs, bark, and fruits of tropical trees – Mahogany, Acacia, Kapok, Baobab, and wild growing Banana, Mango, and Coffee. This terroir is a crucial factor for the unique taste profile of our cocoa beans.
Immediately after harvest, cocoa beans are fermented under large banana leaves and then dried in the sun. Our agents, who come from the region and have known all our farmers for years, regularly collect the fermented and sun-dried beans for sorting and quality control. Broken and undersized beans are removed, and probing cuts are made into hundreds of beans to check their quality. Only the very best batches are packed into jute sacks, shipped to Hamburg, and there stored in temperature-controlled warehouses.
On the basis of these high-quality cocoa beans we have been able to develop our MONT AGOU – CHOCOLAT DU TOGO with one of the best and most traditional of German chocolate makers. Apart from 72% and 85% finest dark chocolate bars we also offer 68% chocolate drops for a hot chocolate experience of unmatched deliciousness. Bar or cup, this chocolate perfectly conjures up the taste of The New Africa for your senses.